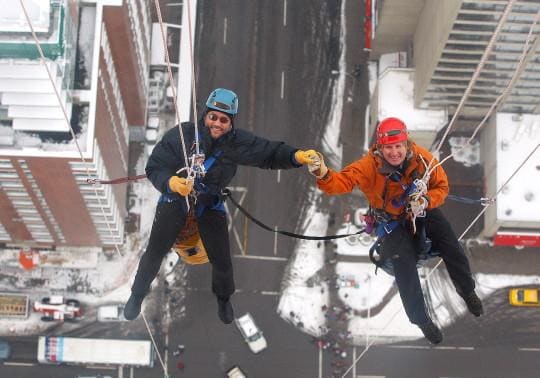 Bret Wilson from CBC's Dragons Den, and Byron Smith Rappelling Calgary Tower Oct 2009


You will soon get your chance to
'Jump' off the Calgary Tower
In Support of the Sir Edmund Hillary Foundation
The Sir Edmund Hillary Foundation shall announce soon for the 2013 and thee 5th annual rappel. Past years have been joined by Peter Hillary (Sir Edmund Hillary's son) and Byron Smith (Everest and Seven Summits Summiter) and other supporters as they rappel 626 feet to raise money for the Foundation.
Each rappeller is committing to raise $5,000 before they rappel down the Tower, last year the rappel raised over $58,000. All proceeds will go to the Sir Edmund Hillary Foundation, which focuses on bringing education, health services and a variety of environmental programs to help the Sherpa people of Nepal.
"We're really pushing for more rappellers to come out and raise money for the Foundation. We will provide the training and equipment to anyone who would like to come out and support this great cause, besides it's a chance of a lifetime to rappel the Tower," said Byron Smith, director, Sir Edmund Hillary Foundation.
The rappel will start at 12 noon and go until all the rappellers have made the daring descent down the Tower.
"I have just about reached my goal of raising $5,000 for the Foundation. I'm excited to see Calgary from on top of the world and rappel down with my friends and family watching below, it's definitely going to be an experience of a lifetime," said Todd Millar, 2011 rappeller.
Currently, the Sir Edmund Hillary Foundation, in conjunction with the Rotary Club of West Calgary and the Local NGO, is building "The Zeke O'Connor High School" in the village of Phaplu. This will be the first high school in the Solu-Khumbu area teaching Grade 11 and 12 science. The school is scheduled to be completed within the next three years and will accommodate 150 students.
For more information, please visit www.siredmundhillaryfoundation.com or contact:
Byron Smith
Director
Sir Edmund Hillary Foundation
Everest & Seven Summits Summiter,
Cell: 403.585.6266